Spend your single vacation with our travel companions on Thailand's most beautiful and largest island: Phuket
In addition to our combined offer with a hotel in Patong Beach you can also book your own hotel according to your wishes. Your Thai lady checks in with you in the hotel. However, for guests traveling to Thailand for the first time, we recommend our Inklusive offer with hotel in Phuket.
As your single travel destination on Phuket we either recommend Patong Beach or the quieter beaches Kata and Karon Beach. From there, all other beaches can be reached by taxi or scooter (already available for 5-10 € per day).
At the end of this article you will find all our Thai girls for your single vacation on Phuket. Choose your dream companion and spend a holiday full of fun and relaxation.
Arrival at the airport
The airport pickup is only complimentary when you book our package
Single Holiday in Phuket
. If you book the hotel of choice yourself, it is best to ask in advance if the hotel offers an airport pickup service. Otherwise, you take a taxi outside the airport building at the taxi counter. The drivers and the service is very friendly and reliable. After giving the name of your hotel and address, you will be assigned a driver at the taxi counter. The driver will turn on the meter - the costs vary from 800 THB (Patong) to 1000 THB (Kata), depending on the route.
Patong Beach
Patong is the main tourist spot and therefore has the widest range of entertainment and offers accommodation ranging from the guesthouse to the 5 * luxury hotel of every price category. The 1.5 km white sandy beach is lined with coconut palms, the warm and calm sea invites you Swim in. On the wide beach promenade, shops offer drinks, fruits and snacks at reasonable prices. Behind the beach begins Patong's bustling life with restaurants, bars, hotels and shops. Patong Beach is also ideal for lovers of water sports and active vacationers.
In Patong our previous guests especially liked the following hotels:
| Hotel | Description | Price |
| --- | --- | --- |
| IndoChine Resort & Villas | The IndoChine Resort in the north of Patong was recommended by many of our guests. A breathtaking view awaits Man: We particularly recommend the suites, maybe even a jacuzzi to relax with your Thai companion? Top equipment such as a gym and swimming pool are available in the hotel as a matter of course. | middle |
| The Bliss South Beach Patong | Located in the south of Patong on the beach promenade 4-star hotel. Each suite has a separate living area with a sofa and flat-screen TV, and some have a spa bath or private pool. | middle |
| C&N Resort and Spa | Our partner hotel in Patong with very good price / quality ratio and breakfast. It is not directly at the beach, but it is very quiet with a small swimming pool and relaxed atmosphere. The hotel offers a free pick-up service from the airport. See also our offer Single Holiday on the island of Phuket | good value |
| Patong Signature Boutique Hotel | New and minimalist stylish hotel on the beach promenade of Patong. The hotel has a nice rooftop outdoor pool and is just 1.2 km away from the nightlife of Bangla Road. | good value |
| The Gig Hotel Patong | Modern, very well rated and centrally located hotel. The Gig Hotel, as well, has a rooftop pool with great views over Patong. | middle |
More recommendable girl-friendly hotels:
Karon and Kata Beach
The places Karon Beach and Kata Beach are located south of Patong and are characterized by beautiful and quiet beaches. You will find more relaxation, but not so many shopping and entertainment options as in Patong. However, there are plenty of bars and restaurants so you can have fun with your travel companion outside the hotel room, too 😉 .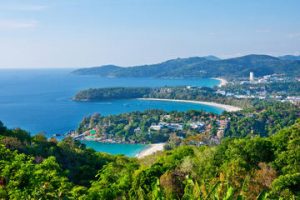 We recommend the following hotels to our guests in Kata und Karon Beach:
| Hotel | Description | Price |
| --- | --- | --- |
| Thavorn Palm Beach Resort | The Thavorn Palm Beach Resort is just a two-minute walk from Karon Beach. All rooms are generously furnished and have their own balcony. Enjoy 4 swimming pools, a fitness center and 3 restaurants. | higher class |
| Katathani Phuket Beach Resort | The Katathani Resort Phuket is just a minute's walk from Kata Beach. You can expect a relaxing beach holiday in the award-winning hotel with 6 pools and various restaurants. The resort across Kata Beach offers a first-rate spa and fine dining. The location is also one of the best in Kata Beach. | higher class |
| Andaman Cannacia Resort Spa Kata | The Andaman Cannacia Resort is located on a hillside with fantastic views of the Andaman Sea, just a 4-minute walk from Kata Beach. There is also a free hotel shuttle that will take your Thai girl and you to the beach. The resort has a beautiful outdoor pool, and all rooms have terraces or balconies - suites even have their own outdoor hot tub. | medium |
More girl-friendly hotels to recommend:
Rawai Beach
Men and singles who like to go discover hideaway places and fully concentrate on their Thai companion can choose Rawai. At the southern horn of Phuket is located Rawai Beach, which beaches are still natural and quiet, but a bit shallow and not very suitable for swimming. There are no big hotels and less nightlife. Nevertheless, enough restaurants and shops are available. Local boaters are happy to take you and your companion to nearby islands for snorkeling. In the quiet Rawai we can recommend the following hotels to our guests:
| Hotel | Description | Price |
| --- | --- | --- |
| Serenity Resort & Residences Phuket | Serenity Resort is located right on the tranquil beach of Rawai Beach. It has a beautiful infinity pool overlooking the sea. At the hotel you can rent your own yacht for day trips to the islands. | medium |
| Rawai Palm Beach Resort | The Rawai Palm Beach Resort offers big, comfortable beds and a lagune-like pool. | mittel |
| Smile House and Pool Rawai | In Smile House & Pool you live in functionally furnished bungalows with fridge. The guesthouse offers a very good price-performance ratio. | good value |