At ThaiSingleReisen you'll find the Thai holiday companion you're looking for.
Our travel companions share the following characteristics:
Loving, affectionate, caring
Good command of English
Talent to organize and plan your single journey
Good local knowledge throughout Thailand
Further benefits of a single vacation with companions can be found at:
Thailand vacation for single men - the benefits
The begin of your single journey
After the booking of your Thai girl is done, you will receive a definite confirmation from us if your companion is available and if monthly regularly recurring days fall exactly in your booking period.
If you have not booked your flight yet, now is the time to do so as the flights get more expensive over time.
Cheap flights can be found at https://www.skyscanner.com.


Travel destinations
Thailand is a big country where you can travel safely at any time of the day or night. Thailand is one of the safest countries in the world, it is comparable to Germany - although the German cities are probably more dangerous due to the high rate of foreigners.
What could be nicer to have fun with a nice companion and being in a safe country? In many countries, such as Africa or South America, both points are not easy to combine. You have a Thai girl on your side that you can count on and who can confidently take care of your valuables. For women from the disco or other Thai girls from the Internet, this confidence is often missing


We give valuable tips on destinations, including the available guides at:
Travel packages for your single travel
Holiday with Thai company in Bangkok
Bangkok is the ideal starting point for your single journey. Suvarnabhumi International Airport is one of the most impressive airports in the world and is easily accessible from all over Europe. In Bangkok, we also have a variety of excellent vacation companions who like to welcome you at the airport:
At the end of this article at the following link you will find our Thai companions for Bangkok.
Holiday with Thai companion in Bangkok
After having arrived at the hotel it is up to you how to proceed. Just talk openly with your companion on what you like to do. Example: Showering and relaxing in the hotel room, a meal together or sightseeing. Our companions know how to respond to your wishes.
An absolute must is a visit to Bangkok's tallest building (314m), which has a breathtaking viewing platform. A ride up the fastest lift in Thailand costs just a few Euros. Once reached the top you'll find a bar and a skywalk: You walk on shiny glass plates and feel like you're standing in the city.
From Bangkok, you can take trips to Pattaya or Hua Hin. Your guide and your German representative will be happy to help you find a taxi or other means of transport: More under:
Thailand holiday with travel companions in Pattaya
Cheap holiday in Pattaya


Holiday with Thai companion on the island of Phuket
The beautiful island of Phuket is the ideal holiday destination for newbies in the field of single travelers or men who like to enjoy their holiday the uncomplicated way.
What is unique is that ThaiSingleReisen offers a partner hotel on Phuket that offers excellent value for money and received positive feedback from our guests. More under: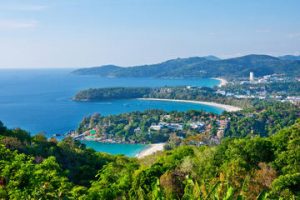 Thailand round trip with companion
All of our guests, who want to combine city, countryside and beach during their holiday, we recommend our round trip offerThailand round trip with companion
Your Thai tour guide will show you the most beautiful sights, negotiate the best prices and spoil you everywhere else.
Further questions?
Please read our FAQ first and use our contact form: ThaiSingleReisen later on