Dear Single Travelers,
here we continuously provide current on-site information on the impact of the Corona crisis on living and vacationing in Thailand.
08/01/23 Entry into Thailand without proof of Covid vaccination
Even after the opening of China, there is no need to show a Covid vaccination before departure. Everything else is fake news.


14/11/22 Entry into Thailand without formalities
As previously announced, the entry into Thailand is as easy as it was before the Covid area.
An extra travel health insurance is also no longer necessary. Good news for our honorable Corona-unvaccinated travelers: Neither a test nor a vaccination certificate is necessary.
As an extra candy and to compensate the hardship in the past, Thailand has extended the visa free stay from 30 to 45 days!
26/05/22 Thailand after 2 years of Corona
The Thailand passport will get obsolete from June onwards. Entry will then be - except for the vaccination certificate - as easy as before Corona.
A few guests consulted us due to an article in the magazine "Der Farang", which addressed that Jomtien Beach in Pattaya is said to be polluted. We were only there a few days ago and can only report positive things: low prices and still no Russians or Chinese, which makes everything much quieter.

22/04/22 Thailand lifts compulsory testing for vaccinated


As already announced in advance at ThaiSingleReisen, Thailand completely abolishes the corona test requirement upon arrival for corona vaccinated people. So only the so-called Thailand passport is necessary to upload the vaccination certificates. Apart from a travel health insurance with a coverage of 10,000 USD, there are no further costs for the holiday preparation.
Thailand Pass Registration


09/04/22 From May only one quick test at the airport
From May 1st, only one rapid antigen test (duration 15 minutes) will be carried out at the airport in Thailand. The news is not 100% confirmed yet, but will become official in the next few days.
Proof of vaccination will soon be sufficient for entry into Thailand.


09/04/22 Only rapid test from May onward
Starting from 01 May, only a rapid antigen test (duration 15 minutes) will be performed at the airport in Thailand. The news is not yet 100% confirmed, but will become official in the next few days.
Soon a vaccination certificate will be enough to enter Thailand.


26/03/22 No more Covid test before departure to Thailand
From April 1st, no more Covid-19 test be required before departure to Thailand.
Relax on entry requirements into Thailand from April onwards


26/02/22 Relaxation in Thailand from March
Good news. From March 1st, the second PCR test will be omitted.
Details : Just one more PCR test and one night at the SHA+ Hotel


17/02/22 Entry requirements for Thailand
Test&Go Program for Mainland Entry (Bangkok, Pattaya, Hua Hin)
A Test&Go package with airport pickup and pre-paid PCR test must be booked:
Test & Go hotels in Bangkok with SHA+ certification
Entering the dream island of Phuket is a little cheaper:
First, a PCR test must be booked: Reservation PCR test Phuket
After that, another hotel
SHA+ Hotels in Phuket
Finally, for Phuket as well as for Bangkok, the registration to enter Thailand



20/01/22 Thailand reopens in February
As suspected, it was a short and in retrospect unnecessary break that Thailand took because of Omicron.
From February onwards it will be possible to enter Bangkok again without any problems, with a few conditions that can be found here.
Bye Bye Omicron: Thailand will reopen in February
It is interesting that this decision came at the same time as the publication of the quite controversial WHO (World Health Organization), which suddenly calls for the lifting of all travel restrictions.
New sounds from the WHO


07/01/22 Sandbox model only (with Thai companion)
Entry through Bangkok Airport without quarantine (Test & Go) is suspended. Thailand travelers who already have an entry permit (Thailand Pass) can still enter without problems.
For new applications however, only the sandbox model is possible on the island of Phuket.
We strongly recommend the sandbox model to our guests, as man can move around freely on Phuket and can particularly spend the time with one of our beautiful companions.
In addition to Phuket, the provinces of Krabi, Phang-nga and the island of Koh Samui are also possible. But there is more to do in Phuket and due to the still low number of visitors (Chinese cannot come), the beaches are also in a fantastic shape.

The most important links summarized
Registration for Entry into Thailand
Reservation PCR-Test at Phuket airport


04/01/22 Entry only possible within the Phuket sandbox model
Unfortunately, due to the the Omicron variant, the Thai government has decided today that the only way to enter Thailand is via the Phuket sandbox model: I.e. 7 days on the island of Phuket including two PCR tests paid in advance before other places in Thailand can be visited.
It is not yet clear whether guests who already have the Thailand pass with QR code will be able to enter the country after January 10th.
We regret the decision of the Thai government and will provide an update immediately.


21/12/21 Entry without quarantine is currently suspended
Bad news for all us single tavellers. No new Thailand passport applications will be approved until January 4th. The goal is to observe Omicron, although the symptoms are supposed to be mild and the virus shuns Thailand's hot climate anyway.
More info on entering Thailand here
Guests who already have their Thailand passport can still enter until mid-January. All others we recommend to wait with the cancellation until the situation is reassessed on January 4th.
Still possible is the Phuket Sandbox model. Under this program, man must first spend 7 days in Phuket before he is allowed to travel on.


01/12/21 Live Impressions
Some nice self-shot pictures from Pattaya can be found here:
Corona situation in Thailand
Please contact us if your flight to Phuket is via Bangkok
.
For Phuket island, we recommend booking a flight without changing planes in Bangkok. Otherwise, a night must be spent In Bangkok until the PCR test result is there. Also possible is to book a flight with the same airline, so that the luggage is checked through.
Entry to Thailand from 01 November onwards
The CoE (Certificate of Entry) will be superfluous and replaced by the Thailand pass.
You can register at the following link: Registration for Thailand Pass. During registration the destination is selected (e.g. Bangkok or Phuket).
For the island of Phuket, the test is conducted at the airport and an appointment is made under the following link : Book a PCR-Test in Phuket
Both links are activated since November 01.
No quarantine is necessary. Only the first night must be spent in a SHA hotel to wait for the result of the PCR test.
We recommend the following hotels with Test&Go Packages incl. airport pickup:
Test & Go Hotels in Bangkok with SHA+ certification

12/10/21 Thailand opens completely from 01 November onwards
This is the news that all of us Thailand fans have been waiting for and which we promised our guests by 99%. From first November onwards Thailand opens completely for tourism - without quarantine. The complicated Sandbox Models and Corona tests are now passé.
Read more at Thailand opens without quarantine from November.
The UK and USA are on the list of 10 countries from which double vaccinated travelers are allowed to enter without the obligation of quarantine. The selection of countries is probably more about the purchasing power of tourists rather than the Corona situation in the respective countries.


13/09/21 Pattaya Move On starts from October
With the drop in the corona numbers in Thailand, which are now at a European level, the Thai mainland is slowly but surely becoming accessible again without quarantine.
Here are the key data of the Pattaya Move On model
Tourists must be vaccinated twice and the last vaccination must be more than 14 days ago
The first 3 days must be spent in an ASQ (Alternative State Quarantine) hotel
Compared to the Phuket sandbox model (see below), it is not recommended in this way. We can only advise all Thailand single travelers to fly to the dream island of Phuket (connecting flight from Bangkok also possible) and spend 7 days - without any quarantine
Of course, the Thai woman can also check in with our guests at the hotel on the second day already.

See also:
Phuket 7 + 7 sandbox model
In Phuket we have one of our best
Thai tourguides
.
19/07/21 Hua Hin opens from October
From October 1st onwards, fully vaccinated Thailand travelers will be able to spend a holiday in Hua Hin without quarantine under the Hua Hin Recharge program. Since the Phuket Sandbox model launched on time, we also expect it will work with Hua Hin.


19/06/21 Phuket Sandbox from July 1st onwards
The Phuket Sandbox model starts on July 1st. Vaccinated tourists can enter the dream island without quaratine. It is about time that Thailand opens. Furthermore, the Prime Minister has announced that Thailand will be fully open to tourists in October, see here Thailand opens from October.
However, the Thai consulates are waiting until July 1st to issue the CoE (Certificate of Entry), but it will be very quick to apply, within 1-3 days.
Here are the requirements for the Phuket Sandbox model
Tourists must be vaccinated twice and the last vaccination must be more than 14 days ago
A Covid test no older than 72 hours is required for flight and entry
Covid-19 insurance in the amount of USD 100000 USD: best in Germany with Hanse Merkur.
Hygiene Standard SHA+ Hotel. Best at Agoda search for SHA Plus.
Travellers need to install the ThailandPlus App for contact tracing
21/03/21 Corona opening strategy in Thailand
From April 1st, the quarantine for vaccinated travelers will be shortened to 7 days. For those who are not vaccinated, it will be reduced to 10 days.
Facilities such as swimming pool and gym can be used in the hotel.
From September onwards tourists can also eat in the hotel restaurant.
The quarantine obligation will end completely by October and a holiday in Thailand will soon be the same as before.
Whether the measures make sense is left uncommented. In our opinion, Thailand would have survived the Corona crisis very well without any measures.
The flu was almost never present in Thailand. The age of the population and the climate are the decisive factors.
09/03/21 Actual Corona situation in Thailand
The Corona restrictions have also been lifted in Bangkok and Pattaya with a closing time of restaurants, pubs and discos at 01 a.m.
The next steps, which are planned for April, at a glance:
Shortening the quarantine to 10 days (non-vaccinated travelers) and to 7 days for vaccinated travelers
In the quarantine hotel, all facilities such as fitness and swimming pool will be opened to all guests
Complete lifting of quarantine for travelers in Thailand from October 2021 onwards
At Corona situation in Thailand 2021 you will find pictures and further information.


17/02/21 Current Corona situation in Thailand
In Thailand life has returned to normal, except for the annoying mask wearing (but not outdoors).
See Corona situation in Thailand 2021
There are only slight restrictions in Bangkok such as earlier closing times. In Pattaya even the nightlife is "normal" again, so bars and discos are open.
We currently welcome some guests who have gone through the Thai quarantine and none of them regrets it, because the wonderful time afterwards has compensated everything.

22/01/22 Corona Situation in Thailand
There is still no lockdown in Thailand, even if some guests think there is, and there most likely won't be: See Corona Situation in Thailand 2021

20/12/20 Experiences with the Corona quarantine (ASQ Hotels)
Under the following article you will find a first-hand report on the current corona situation in Thailand and experiences with the quarantine.




We assume that the quarantine will soon be shortened to 10 days. There will also be a golf package soon - i.e. quarantine in the golf club 😉 .


22/11/20 Update on the entry requirements to Thailand
Since November 9th, entry into Thailand has been possible again, at least for Germans, with a tourist visa (TR visa), which is valid for 60 days. Information is available on the website of the Thai consulates, e.g. B. Munich:
Thai tourist visa during Corona
We waited a little longer with the announcement because we wanted to try out the entry and the process ourselves.



The 14-day quarantine is unfortunately still mandatory. Flights can be booked with Lufthansa, Etihad or Emirates, for example, and are almost completely empty. A few days ago our colleague flew with Etihad and there were 6 passengers in economy class. A dedicated stewardess was available for each passenger and the service was excellent accordingly.
Business Class is therefore currently less worthwhile during the Corona crisis.
The quarantine is still a major hurdle. On the other hand, you have the unique chance to spend a vacation without mass tourism, combined with many discount campaigns by the hotels. Thailand's beaches are as breathtakingly beautiful now as they were 40 years ago.
We are happy to answer any questions.


04/10/20 Update on the entry requirements to Thailand
Unfortunately, Germany is not yet on the list of countries that are approved for the STC (Special Tourist Visa). Currently only holidaymakers from a few Asian and Scandinavian countries, as well as Switzerland, can look forward to it. But it is to be expected that Germany will soon be on the list.
You can find the requirements for Swiss citizens under the following link:
Notes from Switzerland on the Special Tourist Visa (STV)
18/09/20 Update on the entry requirements to Thailand


From October 1st, entry for tourists to Thailand with a special visa (STC special tourist visa) will be possible again. Normal vacationers and especially single travellers should not hope that everything will be as it was before Corona times.


But the conditions are very strict.
14-day quarantine in alternative state quarantine (ASQ) hotels
Pre-departure negative Covid-19 test and health insurance that covers $ 100,000 for Covid-19 complications
Booked hotels or proof of own real estate in Thailand
In the first trial month October only a limited amount of 1200 visas is foreseen
The visa can be applied for in Thai embassies and consulates.
Here is a list of ASQ Hotels in Bangkok and ALSQ Hotels in Phuket and Pattaya:
Alternative State Quarantine Hotels in Bangkok
Alternative Local State Quarantine Hotels outside of Bangkok
The plan of the Thai government is to attract long-term vacationers especially very wealthy travelers with this visa. It is not yet sure whether the plan will work. What is certain, however, is that opening up to mass tourism is still a long way to go.


05/09/20 Update on the entry requirements for Thailand
Since more and more countries are opening up, Thailand does not want to miss the high season from October. Furthermore, the government has now realized that the economic damage will be too great if hotels remain closed. Currently, long-term visas are planned for tourists who want to escape the cold winter during the Corona crisis. Whether and how a quarantine should take place is still under discussion. Thailand plans long-term vias during the corona crisis
24/08/20 Update on the entry requirements for Thailand
Finally there is good news again, or rather hope that we don't have to cancel our October bookings: Thailand wants to open for tourists from October 1st
25/07/20 on entry requirements to Thailand
It looks like it will still not be possible for tourists to enter Thailand in August. This is mainly due to the high corona numbers worldwide. Currently only the following people are allowed to enter, with the obligation to undergo a 14-day quarantine:
Business travellers
Spouse of Thais
Health tourists
Film teams
We at
ThaiSingleReisen
assume that entry will be possible again in September,
at latest in October
.
14/07/20 Update from Thailand during Corona times


The new normality under Corona doesn't really seem to work in Thai nightlife. The whole industry suffers from the lack of western tourists - moreover the masks and early closing hours do not really attract the guests.
We keep you Single Travellers updated when the first "travel bubbles" have been implemented. "Travel bubbles" are agreements with countries, which have Corona under control or suppose to do so.



04/07/20 Update from Thailand during Corona times


As announced, life in Thailand has been almost normal again since July 1st (apart from masks, social distancing, ...). Unfortunately, entry for foreigners is still regulated and only possible for business people, Thais, residents and spouses of Thais.
The official Corona case numbers are not worth mentioning in Thailand. In fact, there does not seem to be any overload of the health system. However, if the tourists stay away, many bars, restaurants and hotels will die and many jobs will be lost. Therefore, we at ThaiSingleReisen are convinced that it will be possible for us tourists and single travellers to enter Thailand again in August or September at the latest.
Here the Corona overview of the Corona situation and regulations:


The complete nightlife, including bars, discos and body massage has been open since July 1st
Entry for business people, spouses of Thai women and residents possible from July 1st
A corona test and a fit-to-fly certificate are required, both of which can be obtained from your family doctor
Except for very important business people, all travelers are currently in hotel quarantine
For Thais, the hotel quarantine is paid by the state; everyone else has to bear the costs themselves
Before booking the flight, contact the responsible Thai consulate
Entry without quarantine for tourists from selected countries planned from August 1st
24/06/20 Update from Thailand during Corona times
From July 1st onwards, life in Thailand will be almost completely normal again, at least for Thais and tourists who are still in the country: At the current status, tourists from selected countries (so-called travel bubbles) can re-enter from August 1st. It will be important that there are no other bad corona headlines from our home country (e.g. Germany). The official corona numbers in Thailand are still not worth mentioning.
The complete nightlife, including bars, discos and body massage opens from July 1st onwards
There are some restrictions, such as shorter opening hours (until midnight)
Entry for business people, spouses of Thai women and residents possible again from July 1st onwards
Entry for tourists of selected countries planned from Aug 1st onwards
21/06/20 Update from Thailand during Corona times


From July 1st onwoards there is good news regarding the nightlife in Thailand during the Corona crisis. Unfortunately, it is still not clear when we will be able to offer single trips to Thailand again.


Pubs and karaoke shops are almost certain to reopen
Flights to Thailand from July 1st probably only for business people
Unfortunately, there is still no information about when tourists will be allowed back into the country
14/06/20 Update from Thailand during Corona times


Tomorrow, Monday the curfew in Thailand will end completely. Before tourists are allowed to reenter the country, domestic tourism should be boosted first. Allegedly, all of the minor new infections (4-10 per day) are imported cases. This argument further justifies the Thai government to impose the international flight ban.


Massage salons (body massage, soapy massage) remain closed
Alcoholic drinks are served again in restaurants
Unfortunately, no new information about lifting the entry stop to Thailand
06/06/2020 Update from Thailand during Corona times
There is good news again from Thailand for single travelers:
Massage salons (body massage, soapy massage) will open soon
Pubs will also open soon, so that Man is not tied to his companion 24 hours a day
Tourist trips to Thailand pretty sure from July 1st onwoards
02/06/20 Update from Pattaya during Corona times

As announced, the beaches in Pattaya and the surrounding area have reopened yesterday. However, sun beds will only be allowed in the next few days. A larger distance between the seats is planned as well. It is only strange why you first need a corona crisis to invent such good ideas. The larger distances will please the holidaymakers and hopefully they will stay seated longer and consume more.
So far, a
Thailand vacation will almost certainly be possible again from July 1st .
29/05/20 Update from Pattaya during Corona times
Coming monday, phase 3 of the Corona virus relaxations starts in Thailand: The last one before the full opening on July 1st.
The beaches in Pattaya and the beautiful island of Koh Lan can be visited again
Gyms and massage parlors will open (but no body massage yet)
International Air Travel pretty sure from July 1st onwards
22/05/20 Update from Bangkok during Corona times


Due to the low number of Corona cases in Thailand, additional shops and facilities will open from June 1st. However, the state of emergency is likely to be extended until the end of June. Also the night curfew hours from 11 p.m. to 5 a.m will be further shortened.


16/05/20 Update from Bangkok during Corona times
Unfortunately, Thailand announced today that the entry stop will be extended until the end of June.
We at ThaiSingleReisen are confident that this was the last extension and flights will be possible again from July.


15/05/20 update from Bangkok during Corona times

There is some progress again in Thailand. Sometimes, Thailand is exaggerating a little bit with hygiene as the picture shows: Empty shopping mall is disinfected for restart after it has been closed for more than a month. But it is probably mainly for show - like so many things in Corona times...
As of next Sunday, shopping malls like Siam Paragon are allowed to reopen
Swimming pools in residential complexes (condominiums) can also be used again
The curfew begins one hour later, now only from 11 p.m. to 5 a.m.
09/05/20 Update from Thailand during Corona times

Thailand is making good progress (video above encourages during Corona times)
The well-known Chatuchak weekend market reopens after a 48-day Corona break
Fitness studios and shopping malls will soon open again
02/05/20 Update from Thailand during Corona times
There are signs of hope:
The ban on the sale of alcohol is surprisingly withdrawn and ends on May 3rd
The blockade of Pattaya ends on May 5th
There is hope that in June tourists will be able to enter the country again
29/04/20 Update from Thailand during Corona times
The entry ban for tourists was extended until 31 May, until then Thai-Airways does also no longer fly.
Among other points, the following relaxations in Thailand Land are planned from 01 May.
Shops and shopping malls will be opened
Restaurants may open under certain conditions (distance between chairs, no alcohol, preferably outdoors)
Sports like golf or tennis are allowed again, but not team sports like football.
25/04/20 Update from Thailand during Corona times
The alcohol sales ban was extended until April 30th, 2020
Domestic flights from May 1st with Air Asia and Lion Air
Corona loosening is expected in Thailand from May 1st

There is a rumor that tourism may return to Thailand in mid to late May: However, with restrictions such as quarantine and advance notification - we will keep you up to date.
At the moment, Germany has reclaimed the status in terms of easing. The beach ban in Pattaya makes little sense, although the trigger was probably drinking groups on the beach - including unfortunately many German compatriots.
Thank God swimming is largely allowed. There is usually only a warning, and you shouldn't let yourself be caught by a drone (see picture 😀).

Statement by ThaiSingleReisen (somewhat political)
It is sad to see how the herd pressure affects emerging markets, and thus Thailand in particular, in the corona crisis.
The United States and the euro zone can artificially keep their economy alive by printing money. A Thai central bank unfortunately has much less leeway. Although Thailand would not have needed the measures due to the low infection rate, the government is following the herd instinct of WHO and industrialized nations such as Germany and the United States.
Thailand may be testing less for Corona. However, every holidaymaker in Thailand knows that in Thailand millions of Chinese (also from Wuhan) were bustling in narrow streets, red light districts, massage parlors, subways ... Despite these circumstances, Thailand is far from Italian or Spanish in the Corona crisis.
We are open to your comments .


18/04/20 Update from Thailand (Pattaya, Bangkok) during Corona times
Since the death toll and new infection rates remain at a very low level, the first easing will come next week. Hair salons and electronics stores will most likely reopen.
The flight ban remains until April 30th.
All our regular guests can have the calendar of their desired companion noted for the time after Corona without having to submit a booking confirmation.
12/04/20 Update from Thailand (Pattaya, Bangkok) during Corona times
Unfortunately it is getting more and more uncomfortable in Thailand. For fear of private celebrations for the Thai New Year (Songkran), a sales ban for alcohol was imposed until April 20. Like other emerging markets, Thailand tends to exaggerate, although the country would not need to - due to the low infection rates.

We at
ThaiSingleReisen
are firmly convinced that the worst of the Corona spook has been overcome by middle of May and that Thailand is also opening up again.
09/04/20 Update from Thailand (Pattaya, Bangkok) during Corona times
As of today, April 9th, entry into Pattaya will be difficult. The police install checkpoints at the main access points to keep Thai and foreign tourists away. For those who are already in Pattaya, swimming on the beach is still allowed.
05/04/20 Update from Thailand (Pattaya, Bangkok) during Corona times
Not much has changed in Pattaya and the surrounding area in recent days. New infections in Thailand are also low at around 100 per day and are far from exponential growth. Many German restaurants are still open in Pattaya. However, many compatriots sit tightly together and do not adhere to the rules of distance. This is of course also due to the fact that only small restaurants / pubs are open at all.

The positive:
The low traffic on Beach Road is used perfectly to lay the canal and further beautify the beach. The above image shows a section of construction on Beach Road in Pattaya
02/04/20 Update from Pattaya during Corona times
From Friday, April 3rd, a limited curfew will come into force. From 10 p.m. to 4 a.m. only certain groups of people are allowed to be out on the streets (e.g. doctors, bankers, logisticians).
The beaches in Pattaya are as beautiful as never.

01/04/20 Update from Pattaya during Corona times
The rules have tightened in the last few days. A curfew or contact ban like in Germany is still not up for discussion.
Entry in general: No more foreigners (tourists) will be allowed into the country until April 30th. A holiday in Thailand can therefore only be planned again in May.
Bangkok:
Street shops (food stalls) must close from midnight to 5 a.m.
Pattaya:
Alcoholic drinks (beer, schnapps, …) may only be sold until 6 p.m. With the usual sales times for alcohol in Thailand, the following time windows result: 11 – 2 p.m. and 5 p.m. – 6 p.m.
Beaches are still open, you can swim, but for the most part there are no more beach.
28/03/20 Update from Pattaya during Corona times
The popular 24-hour stores Family-Mart and 7Eleven now have a curfew from 10 p.m. to 5 a.m. – this has never happened in Thailand. In Pattaya, thank goodness the beaches are still open.

26/03/20 Update from Pattaya during Corona times
As of today, March 26th, the state of emergency is officially in force. There are no curfews. While all restaurants in Bangkok are closed, a normal vacation is still possible in Pattaya. After 9 p.m. you are not allowed to stay on the beach. However, restaurants and swimming pools in hotels are open.
Thai Airways will cease operations to Europe on April 1. At this point in time, Qatar Airways is one of the last airlines that still flies to Thailand from Germany.

24/03/20 Update from Bangkok during Corona times
An emergency will be declared in Bangkok next Thursday. There are many rumors but we only keep you up to date with facts. Tomorrow I will go back to Pattaya from my side to report on site and enjoy some freedom. There are also rumors that Thai Airways will no longer fly from April 1st. So far, these have not been confirmed - tomorrow we will get the information directly from Suvarnabhumi Airport.
23/03/20 Update from Pattaya during Corona times
Not much has changed in Pattaya. The ferries and speed boats continue to travel to the small, nearby island of Koh Lan.
22/03/20 Update from Pattaya during Corona times
Most of the restaurants in Pattaya are still open and you can sit outside. So if you don't value gogo bars and beer bars, you can have a nice holiday here, even during the Corona crisis.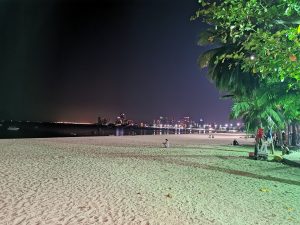 22/03/20 Entry to Thailand during Corona times
As mentioned by Jürgen in the commentary, Emirates has actually discontinued flights to and from Germany until further notice. Airlines such as Etihad, Qatar and Thai Airways continue to flee.
21/03/20 Update on the Corona crisis in Thailand
From Sunday, March 22nd, all restaurants, shopping malls, beauty salons and other leisure facilities will have to close. Food courts in shopping malls remain open for take-away food.
Paradoxically, golf courses are also closed. Just yesterday, Alexander was still playing 9 holes with one of our regulars. Hotels and the associated restaurants remain open. All other res is taurants can only issue take-away. This will probably keep the cooking kitchens (a soul of Thailand) open.
Very important: Hotels and beaches remain open - in contrast to Europe (Spain, Italy, Canary Islands).
03/21/2020 Entry restrictions at Corona times
From Sunday, March 22nd, all travelers will need a health certificate that shows a corona negative result. The certificate must not be older than 72 hours when presented at the check-in counter. In addition, proof of health insurance must be provided covering corona treatments up to $ 100,000. According to our research, all DE / AT / CH international health insurance cover this.
03/20/2020 Live news from Pattaya.
The Pattaya Beach is hardly recognizable. There are no jet skis and the water is much clearer and cleaner than usual. All GoGo bars and beer bars are closed. Only a few hotel bars hold small round tables and sell beer. All 7Eleven are open. Alcoholic beverages can still be bought and consumed 24 times a day - of course also on the beach.
19/03/20
Entry to Thailand is still possible without any problems. All you have to do is install an app on your smartphone: AOT app from the airport in Thailand (AOT Airports app).